FG Pro Shop Inc - Your Professional Equestrian Tack Shop
Our equestrian tack shop has been providing horses & riders products since 2011.  Backed by industry experts and professionals, our products are curated with knowledge, insight and professional use in mind.

Whether it is for Barrels, Pleasure, Reining, Roping, or trail rides, come and see our 
featured products from our numerous brands

We're located at 1465 boulevard Lemire in Drummondville, Quebec.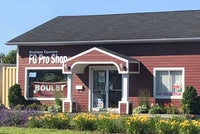 Horse Supplements
Analyzing your hay, grain, feed, time on grass and time of year can leave your horse's health needing a boost. Once you've narrowed down what vitamins or supplements you need to optimize your horse's health, you can choose various products from Excel Supplements, Equine Revolution, Omega Alpha, Purina, Absorbine, and many more.

Shop Now to optimize your horses training level, fitness or body condition.
Delivery Across Canada & the United States
If you prefer to shop online from your home or stable and have your products and equipment delivered directly to your home, use our shopping cart on this online store. We are at your disposal to advise you and answer your questions. Looking forward to serving you!