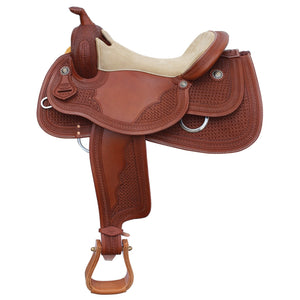 A Sylvain Gauthier Design
Tyson Pro Reiner Saddle is the Next Generation of Reining saddle! Execute your reining pattern with precision and finesse. The extra deep seat pocket improves rider balance and seat position, optimizing communication between horse and rider. Featuring smooth premium American leather, intriate hand-tooling and elegat Colomba conchos.
TRIM
7/8 Snowflake Hand-Tooling with Colomba Berri Conchos
Sand Coloured Suede Seat.
RIGGING
7/8 Rigging
SKIRT
29" Butterfly Skirt
FENDERS & JOCKEYS
Smooth Leather Jockeys and Fenders
Visalia Wood Stirrups

TREE
Premium Fiberglass Covered Wood Reining Tree with limited 5 year warranty.
Regular Quarter Horse Bars (QHB)

DETAILS
Gullet Width = 7"
Gullet Height = 6"
Cantle Height = 3.25"
Horn Height = 2.5" Reining Horn
Weight 30 lbs.