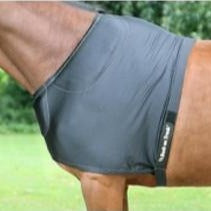 Back On Track Shoulder Guard
has removable pads across chest, and both wither sides. Slips overhead. Velcro belly strap.
Optimise movement  freedom and minimising rubbing blanket effect. Made with revolutionary Welltex ceramic infused fabric to provide soothing, pain relieving far infrared therapy to help alleviate problems with stiffness and injuries to muscles & soft tissues
Choose same size as blanket.
 Sizes: 72" (125cm), 75" (135cm), 78" (145cm), 81" (155cm), 84" (165cm)
 Instructions for Use
The Back on Track shoulder guard should be introduced gradually. We recommend you start by using it for 2-4 hours for the first 3-4 days and then leave it on overnight for best results.   After 3-4 weeks use it for 3-6 days a week and you will see what a difference it makes for your horse.
May be use under the Fleece Blanket or Mesh Sheet.
Please note that physical responses can be variable.
Often you will notice a reduction of muscular stiffness within a few hours or days. Occasionally, however, you will need to persevere for 10 days to 30 days, particularly with established long-term injuries.
For best results, leave shoulder guard on overnight after introductory period or let your horse wear it prior to exercise to help muscles warm up. Not recommended for turnout.
Material:
 Exterior - 80% Nylon - 20% Spandex blend infused with ceramic powder.
Care:
Machine washable up to 86°F or 30°C. Use normal detergents that do not contain bleach or fabric softeners. Air dry only, do not tumble dry.
Back on Track products are not to be compared with magnetic therapy. The effectiveness of Back on Track's thermal warmth therapy has been established by medical science.