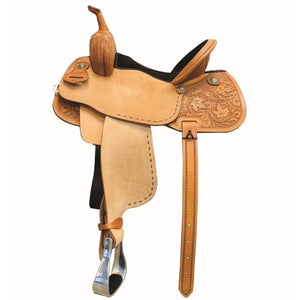 The New Western Rawhide Saddle Series by Jim Taylor
Designed in Texas Where Innovation Meets Performance

Pro Elite Barrel Saddle - Golden is Western Rawhides new Jim Taylor barrel saddles with a higher swell and cantle gives the rider security without getting in the way. Fenders move freely and adjust quickly to accommodate and maintain body position
Colors Golden
Détails Below
Pro Elite Barrel Saddle
 The seat is designed to sit you deep in the pockets and balanced over your horse in any gate. Built on our Fusion tree.
TRIM
Premium American Leather with a hand tooled combination of Basketweave and unique Maple Leaf tooling along with a buckstitch border.
RIGGING
3-way
SKIRT/SEAT
24" Square Skirt, Chocolate Suede seat
JOCKEYS & FENDERS
Roughout with buck stitch
TREE
Wood, fibreglass covered, Quarter horse bars
DETAILS
Leather with a Chocolate suede seat and tan buck stitch jockey and fenders.
Comes with tooled billets and back cinch and Colomba Conchos.
Aluminum Stirrups.
Gullet Width = 6¾″
Cantle Height = 5″
Horn Height = 5″
Weight: 22lbs