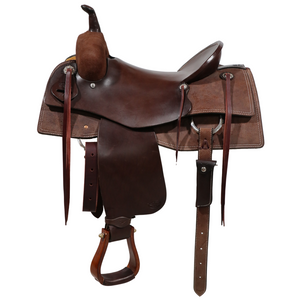 Western Rawhide Signature Line
Proudly made in Winnipeg, Canada
Performance Ranch Saddle is a ranch saddle with a ground seat that keeps the rider balanced to accommodate the sit up and the deep seat in the turn arounds and stops. This is the perfect "cross over" saddle from working cow horse to ranch versatility events.
Seat 16"
Performance Ranch Saddle
TRIM
Premium American Leather.
Antique slotted conchos with latigo strings.
RIGGING
7/8 in skirt rigging, comes with 1 ¾" double stitched billets and 8" back cinch.
SKIRT
29" square skirt
JOCKEYS & FENDERS
All rough out hard seat/jockeys and fenders.
TREE
High quality wood tree, fiberglass covered with limited 5 year warranty. Regular quarter horse bars.
DETAILS
Gullet Width = 7"
Gullet Height = 6¼"
Cantle Height = 3"
Horn Height = 2½"
Weight = 30 lbs