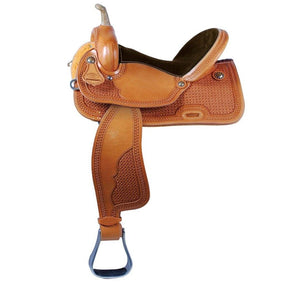 A Sylvain Gauthier Design
Nevada Pro Golden Snowflake Racer Saddle is a barrel western saddle crafted for speed and agility but doesn't sacrifice comfort. Slightly deeper seat pocket puts the rider's weight closer to horse's center of gravity for improved balance and control. Narrower, refined seat improves rider comfort. Premium quality American tanned leather.
Nevada Pro Golden Snowflake Racer Saddle
Hand-tooled and finished with eye-catching Colomba Conchos.
TRIM
Hand-Tooled Combination 3/4 Snowflake with running "W" border Premium Golden Leather in a Medium Oil Finish with Brown Suede Seat Finished with elegant Colomba Berri Conchos.

RIGGING
3-Way Rigging

SKIRT
Square Skirt – 24"

JOCKEYS & FENDERS
Sanded fenders and jockeys

TREE
Quality fiberglass covered Wood Pro Racer Tree with limited 5 year warranty. Regular Quarter Horse Bars (QHB)

DETAILS
Gullet Width = 7″
Gullet Height = 8″
Cantle Height = 5″
Horn Height = 3-1/2″
Weight 22 lbs.