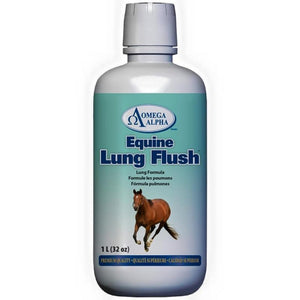 Note: overweight / oversized item, shipping fees will be calculated at checkout.
Lung Flush by Omega Alpha increases blood circulation and acts as an expectorant to clean the lungs of the horse care.
Provides essential antioxidants for the proper functioning of lung tissues.
Lung Flush Strengthens normal lung function
INGREDIENTS :
- Rosemary

- Scutellaria biacalensis

- Momordica grosvenori

- Honeysuckle

- Chrysanthemum morifolium
- Morus alba
The herbs that make up the formula:
- stimulate blood circulation in the pulmonary capillaries, which contributes to the expulsion of stagnant toxins from the lungs to the general circulation, where they are diluted, detoxified and eliminated;
- strengthen the lungs and promote their drainage;
- stimulate the activity of the lung macrophages, thus cleansing the lungs, in addition to draining the cellular debris trapped in the pulmonary tissues;
- help dislodge mucus and drain it from the lungs;
- promote the recovery of the respiratory tract.
DOSAGE:
Give 15cc to 30cc daily
Caution:   For oral administration only. Shake well before use. Do not give to mares in foals

Lung Flush is manufactured under strict GMP standards. This information is not intended to diagnose or treat health conditions. We always recommend consultation with your veterinarian for proper diagnosis.