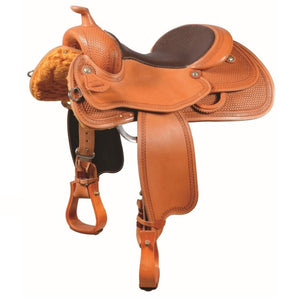 A Sylvain Gauthier Design
FG Precision Reining Saddle is built on a Jim Taylor Shoulder Free Tree. Combined with our FUZION technology, it has our unique ground seat design and will give you the ultimate comfort and balance. It keeps you in the right position during high performance maneuvers. Made with PremiumAmerican Golden Skirting leather and has lined fenders and jockeys. The 7/8 hand tooled Mini Basket and Running W border, Colomba Silver Conchos and NEW Western Rawhide wooden Visalia Stirrups will give you the look of a champion.

TRIM 
7/8
SKIRT 
Butterfly Skirt 29''
JOCKEYS & FENDERS 
Smooth Jockeys and Fenders with Border Tooling

TREE 
Premium wood fiberglass covered Wood Reining Treen with limited 5 year warranty. Regular Quarter Horse Bars (QHB)
DETAILS 
Gullet Width = 7"
Gullet Height = 8.5"
Cantle Height = 2-3/4"
Horn Height = 2-1/2"
Weight 32 lbs.