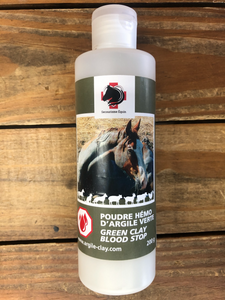 Poultice Powder External Use is a horse care product. Powdered poultice for external use for horses is 100% natural and used as an antibacterial, antifungal, haemostatic and naturally antiseptic. Strong healing power that soothes and reduces edema.
Wash with saline water and apply the plaster of clay directly to the wound. If you do not have the opportunity to wash right away (on a hike for example), you can put the powdered clay directly on the wound and stop the bleeding while protecting the wound.
Clay is a "living dressing" that absorbs the "bad" and allows the good cells to regenerate. His possibilities of benefits are endless! Indispensable for hiking and in your first aid kit.