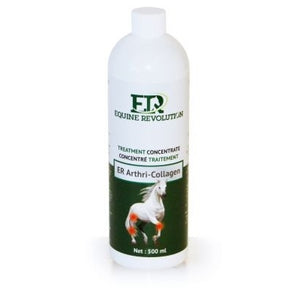 ER ARTHRI-TREATMENT from Equine Revolution is horse care product that harnesses synergy between collagen peptides and aminoglycans such as glucosamine and chondroitin for intense, rapid treatment
Helps reduce joint pain and maintain healthy joint
Complementary treatment during post-operative recovery
TREATMENTS
Full treatment is a 12 bottles long treatment (3 months)
 Small treatment is a 4 bottles long treatment (1 month)
 You can also buy only 1 bottle at a time
 The active ingredients target the sites where tissues have been damaged. This allows a regeneration process based on the animal's own metabolism.
Medicinal Ingredients:
Hydrolyzed collagen 10 000 mg, glucosamine 3 000 mg, methylsulfonylmethane (MSM) 3 000 mg, chondroitin 1 000 mg, proprietary blend (1 600 mg) of hyaluronic acid, vitamin C, L-lysine, cupric sulfate, zinc chelate.
Non-medicinal ingredients:
Purified water, natural flavor, stevia, sodium benzoate, potassium sorbate, glycerol.
Directions:
For a 500 kg horse: For best results a minimum of 4 weeks(4 bottles) over a period not exceeding 12 to 24 weeks, administer daily 2 doses of 30 ml each using a gavage syringe prior to eating. It is recommended to keep a gap of 10 to 12 hours between each dose. For smaller or heavier animals: adjust dosage proportionally.
Storage:
Must be stored in a cool and dry place. Close tightly after opening, and use within 2 months of the first dose. The unopened product has a shelf life of 12 months.