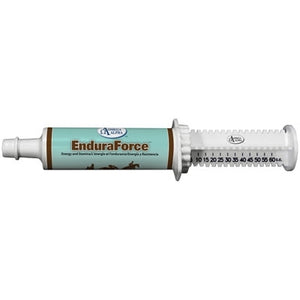 Note: overweight / oversized item, shipping fees will be calculated at checkout.
EnduraForce paste from Omega Alpha promotes sustained energy and faster recovery for yout horse care in high performance horses. Endura Force gives horse sustained energy during competition and contributes to recovery after the event.
Use in any situation where higher degree of energy is required.
EnduraForce is a powerful formula containing herbs that enhance and restore energy, as well as ingredients that promote better muscle functioning.
INGREDIENTS :

- ENDURAGIN CONCENTRATE (Panax quinquefolius, Astragalus, Ashwagandha, Eleutherococcus Senticosus, Codonopsis pilosula)

- DMG (Dimethylglycine)

- Ribose

- Gamma oryzanol

- Creatine monohydrate
- TP (Adenosine triphosphate)
DOSAGE:   Give 30 cc in the morning and 30 cc, 3 hours before race.
ORAL USE ONLY.
NOT RECOMMENDED FOR MARES IN FOAL.
Manufactured under strict GMP standards. This information is not intended to diagnose or treat health conditions. We always recommend consultation with your veterinarian for proper diagnosis.