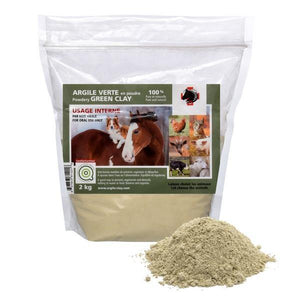 Note: overweight / oversized item, shipping fees will be calculated at checkout.
Clay Internal Use is an 100% natural oral horse care product. The clay absorbed by the digestive tract pumps toxins stored on mucous organs (stomach, intestines). Stimulates metabolism in slow motion and helps to improve micronutrient deficiency.
2 kg
Clay Internal Use
Safe for your and horse's health.

Uses:

Eliminates gases (because the clay will trap them), improves the digestive transit and the intestinal transit (diarrhea), gastric bandage, regulates the PH, detoxifies, invigorates and stimulates, anti-diarrhea, absorbs the toxins, remineralizes, equilibrium and regulates the functions of vital organs etc.

During the beautiful season (depending on your country of residence) to put in the water, free choice for your animal, so in a 2nd plastic container. Observe, some of your horses will spontaneously drink that clay water (they know they need it) and others will continue to drink at their usual watering hole.

How to proceed?
Do the same for your dogs, cats, cattle, goats, sheep etc.

At a rate of 2 to 4 tablespoons a day, either sprinkle and moisten on the feed or directly in the wet feed for about 3 weeks.

Ideally, give them a 3-week cure - (3 to 4 times a year, at each change of season).

Clay imported directly from France. Green clay, for internal use, is certified GMP, (Animal Feed) quality assurance and control.


Suggest clay in your hand as a treat = a healthy snack!