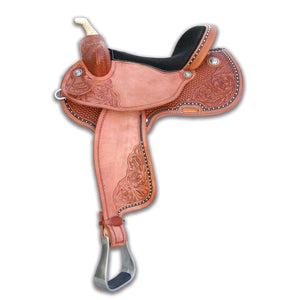 A Sylvain Gauthier Design
Chestnut Brazilian Barrel Saddle is a western saddle with a racy combination of Floral & Basket tooling with dramatic Stainless Steels dots and hand-painted black accents. Featuring a deeper and wider seat pocket for Extreme Performance, as well as a new compact, close-contact skirt with precision 3-way riggins.
Chestnut Brazilian Barrel Saddle
The NEW Brazilian style tree features a special bar angle for improved fit on the horse's back and freedom of movement through the shoulder.
Rigging : 3-Way Rigging
Skirt : Butterfly Skirt - 24"
Jockeys & Fenders : Rough Out Jockey and Fenders with Tooling and Stainless Steel Dots
Tree : Premium Brazilian Wood Fibreglass Covered Tree with Limited 5 Year Warranty
Details :  
Gullet Width = 6-3/4"
Gullet Height = 7-1/2"
Cantle Height = 3-1/4"
Horn Height = 3"
Weight = 24 lbs