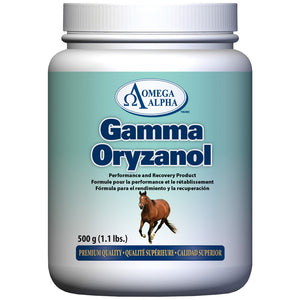 Note: overweight / oversized item, shipping fees will be calculated at checkout.
Gamma Oryzanol from Omega Alpha promotes the horse care with formation of lean muscle mass. The product has a pharmaceutical grade which has no additives or fillers.
Gamma Oryzanol

DOSAGE:   1 level teaspoon daily.
Oral use only. Not recommended for mares in foal.
Gamma Oryzanol™ is manufactured under strict GMP standards. This information is not intended to diagnose or treat health conditions. We always recommend consultation with your veterinarian for proper diagnosis.